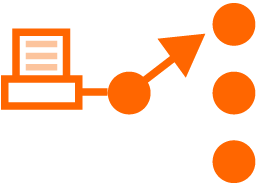 Despite the Internet revolution, traditional fax machines still prove useful in many industries. However, dmFax introduces intelligent new features that maximise the 'simple' advantages of fax technology while overcoming many of the technical hassles.
To get started, just select a number to become your company fax number. Choosing one that's in sequence with your phone new number is a good idea. Then dmFax will do the rest.
Key features and benefits of dmFax
Choose your own dedicated fax number
Keep your number when you move
Divert fax calls to your regular fax machine number or to different machine
Our system can receive faxes and send them on to you by email
Avoid missing important faxes because your machine is busy or out of paper
There's no need to phone the office to see if a fax has arrived. Check your email inbox instead
Save yourself from having to a buy a new fax machine, if you are happy to receive faxes by email only
Get the benefits of expert support - from people, not machines.
| | |
| --- | --- |
| Feature | What it does |
| | web control: Control your number through any web browser, changing diverts immediately 24-7 and viewing your itemised call history online in real-time |
| | Fax by email: Receive faxes by email (as image attachments) |
| | SMS notification: Receive text alerts when someone leaves a message |
Pricing & availability
dmFax is available at affordable prices for all business - with no hidden costs. For detailed pricing information just put a number in your trolley and take a look at the full tariff guide (after clicking on the number in your trolley to see the available services and price plans).
Use our 'call cost explorer' (available on the same page) to see the costs of fax forwarding to the divert destinations you will be using. It's interactive, and easy to get a feel for the costs.
Placing a number in the trolley places you under no obligation to buy.
dmFax case study: Faxes by email saves solicitor's blushes
The traditional fax machine is an invaluable communications tool for one of our clients... a solicitor who works in sole practice in a busy market town. However, dmFax has made a significant difference to his business, reducing stress and giving him extra flexibility.
The challenge
The solicitor regularly receives lengthy fax messages that need urgent attention. However, senders often find his fax number is busy, delaying what can be a time-sensitive process. To make matters worse, messages are often transmitted by mistake several times over, occupying the fax machine - and causing it to run out of paper. Worse still, these instances occur when the solicitor is away from the office.

The solution
Rather than employ someone specifically to tend his fax machine while he's away from the office, the solicitor chose dmFax.
Business benefits
The solicitor no longer misses a single fax message - and senders never hear the 'busy' tone
As a result, he can improve turnaround times and enhance his reputation for customer service
Normal fax messages arrive as before. But when the machine is busy, pages are sent to the solicitor by email instead
When he's away on business, he changes the dmFax options so that all messages are sent by email - direct to his laptop.
Get dmFax